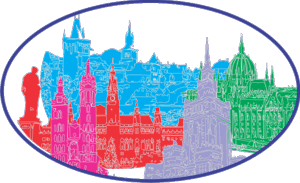 April 6th

An interesting start to my trip... At Pearson Airport, I had four intereting experiences.

First, I was able to connect with a moto friend from travels past. So nice to see him!

Next, I noticed that there were hundreds and hundreds of teenagers in the airport. Most were wearing red jackets and carrying bright blue backpacks with a white circle on them. ???? I talked to one student who was from Hamilton. Accompanied by his parents, he and the hundreds of other students from all over Canada were travelling to Europe to celebrate the centennial of Canada's participation in the WWI battle at Vimy Ridge.

Third: Since I'd arrived around noon, I had a lot of time to kill before I'd meet my friend Lynn (coming in on a later flight) and the flight to Warsaw would leave (10:55 p.m.). I had squirreled myself away for awhile so I didn't notice anything unusual until I took a walk to stretch my legs. There were TV cameras from Global, CBC, CTV, and City all centered around the arrival departure signs. I asked, "What's up?", to find out they were covering a bomb threat. A (possible) incendiary device had been discovered in luggage going aboard a plane headed for Chicago O'Hare. I later learned all the gates/departure corridors had been cleared of all planes for a short time. It was all a hoax (bad, stupid move on some person's part) but it resulted in delays to and fromn the airport.

Finally, the delays started to become cancellations... my friend and travel buddy, Lynn, ended up being stuck in Winnipeg. Between the bomb threat and and work on the main Toronto runways, her WestJet flight got cancelled and that resulted in her missing the plane to Warsaw... SO... for the time being, I was on my own!